Kimball Public Library History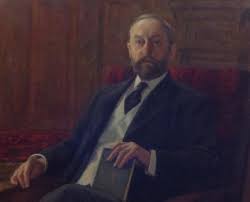 Colonel Robert J. Kimball, a Randolph native who became a successful financier in New York City, funded the library bearing his name. The red brick Renaissance Revival building, located next door to the Chandler Music Hall on Main Street, is an impressive monument to Kimball, who at age 13 began his career as a newsboy and telegrapher for the Vermont Central Railroad.
The Randolph Public Library was established at Town Meeting in 1896. The State of Vermont sent 134 books, space was "fitted out" over Morton's drug store in the DuBois and Gay block, and the library opened on November 14 with Maud Blanchard as librarian. The following March, the King's Daughters, the Randolph Book Club, and individual donors added to the core collection. In 1898, the Ladies' Library Association donated its 1500 books. The following year, the Sarah Jane Crocker estate provided $3500 for the library's use.
When Colonel Kimball offered in 1901 to provide $10,000 to build a library, the Town of Randolph acted swiftly to acquire the $3200 property that included the site, a tenement, and a barn. The choice pleased Colonel Kimball, for he had lived in the house as a boy. At a special meeting on November 30, the "wide-awake citizens of Randolph" accepted his generous proposal.
Colonel Kimball worked closely with architects H.M. Francis & Sons (Fitchburg, Mass.) to design the building. Contractor Wiley & Foss (Fitchburg, Mass.) cleared the site and began construction in the early spring of 1902. Dedication ceremonies were held on February 24, 1903. At the ceremony, Colonel Kimball said, "In making this presentation to you we do not attach to it any conditions. Our only desire is that you shall be liberal in your appreciation of the value it may be, by giving it such cordial and large appropriations for maintenance as will make it most useful to yourselves, your children and to generations to come." The voters of the Town of Randolph have followed that directive faithfully to the present day.
Click here to read additional details about the Library's history as well as details of the Library's dedication ceremony in 1903. We also have a copy of this program in the reference collection and one available for checkout.